POSTPONED
Unfortunately we have had to take the decision to postpone our Murder Mystery event. Apologies for the short notice but we have been watching the situation closely and felt we had no choice. Watch out for a revised date when it's a better time to hold the event.
Save the Day & Solve the Crime!
On 28th of December we invite all amateur sleuths to solve our mystery – someone was killed but who was it, where was it and which weapon was used?
We'll be hiding the clues around Historic Harwich – when you find the three correct clues you should take your answers straight to the adjudicators in the Alma. Please replace all clues for the next unsuspecting sleuth! PLUS there are spot prizes for children & adults, keep these and exchange them at the Alma for your prize.
How to find the clues … you will need the What 3 Words app on your phone or mobile device.
Sleuths should arrive the at Alma Inn from midday onwards but you won't be released to find the clues until 1pm, so everyone has a fair chance! We'll give you a list of What 3 Words locations and you need to check them – in any order you wish! Return to the Alma immediately if you have found the winning clue to claim your top prize! Evidence is required!
Save time on the day by buying your tickets in advance:
Adults are £5 each

Not currently available

Family tickets £10


(1 or 2 Adults plus up to 4 children)

Not currently available
Please note that the family ticket only applies to single or paired adults (plus up to 4 accompanying children). Any further adults must hold a separate ticket.
---
If you've never heard of What 3 Words then a simple explanation is needed!
The idea is that every 3m square (almost 10ft in old money!) has been allocated a set of words. This can pin the location of a place, or a person, down to a street corner or a particular bench along Harwich Quay. It is in use by the emergency services and by vehicle rescue operators, so if you regularly travel then it could literally be a life-saver! The app is free to install but will use some of your data allowance when you open it unless you're on a wifi connection.
Most buildings have multiple What 3 Words squares so sometimes a very appropriate set of words can be found – can you find ///ending.spelled.attention ?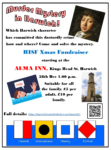 The Treasure Hunt will be held on 17th April.