October 2021 Harwich International Shanty Newsletter
Hi {name} 
There's exactly one week to go until the 2021 Harwich International Shanty Festival and events are moving at a fast pace so there is much to report.
Programme Changes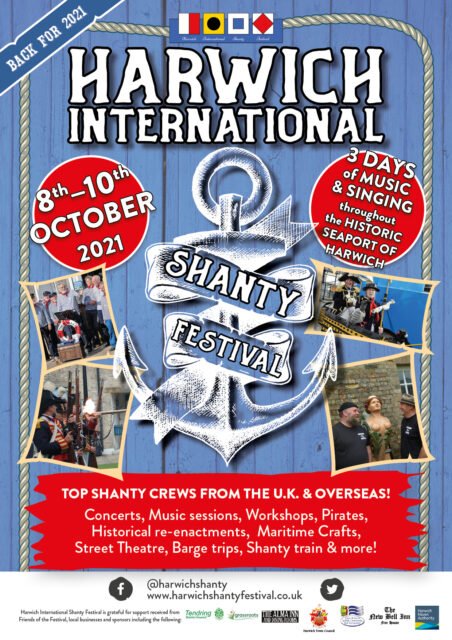 There are inevitably last minute changes that have to be made to the programme every year, but this year has proved trickier than most as we negotiate a huge number of problems which have arisen, mostly as a direct or an indirect result of Covid-19. Please keep checking our website: https://harwichshantyfestival.co.uk/programme-changes/ for the latest up to date news. The biggest change for this year is that the Massed Shanty, which for the past few years has taken place in St. Nicholas Church, will this year be held at the Redoubt instead. This is due to Covid restrictions, we just cannot accommodate enough people inside the Church and so the event will be held in the open air at the Fort instead.
Other changes include a Friday night session in the Globe, starting at 2000. Please go along and join in or just watch. And the Hanover, under new management, has some entertainment in their Function Room. Details on the above link.
Caravan/Camper Van/Motorhome Site
Our site for self contained vehicles is almost full and we expect to close bookings any day now. If you have not registered via our website you will not be allowed access. If you are hoping to stay on this site please go to https://harwichshantyfestival.co.uk/caravan-campervan-2021/ now and fill in the very simple form.
Ticket Sales
Tickets for all events are selling fast, with two Victor cruises sold out already. To secure your place at any ticketed event please visit https://harwichshantyfestival.co.uk/tickets/ but don't forget there are also over 100 free events as well!
Stewards
As always we could do with more stewards, both at events and roving around the town collecting donations and troubleshooting. If you would like to join our team please email our Chief Steward, Harrie: harriehayward@yahoo.co.uk , and join our friendly bunch of stewards 
Johnson Girls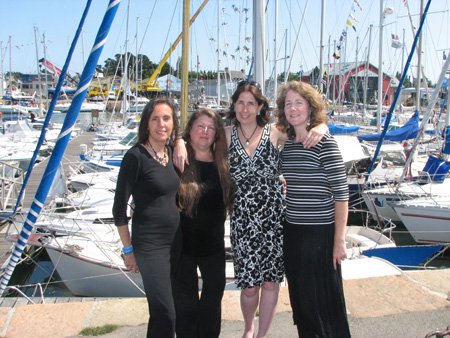 The eagle eyed amongst you will have noticed that the Johnson Girls from Massachusetts, USA were due to be part of our line up this year, but due to the never ending complications of Covid and International travel, this has just not been possible. We do hope to be able to host this internationally acclaimed group in the future, but in the meantime we have been lucky enough to secure a special concert filmed just for us. This will be shown a few times over the Festival weekend and will be our Late Night Extra on both Friday and Saturday night. Tickets, priced at just £5.00 will be available on the door and will also be open to Season Ticket holders and those with wristbands. See https://harwichshantyfestival.co.uk/programme-changes/ for details of this and other programme changes.
Coronavirus
We have to end on a note of caution. Covid-19 is still with us and whilst we cannot issue any guarantees that you will not catch this disease at our Festival, we have endeavoured to reduce risk by reducing audience numbers at some venues and by holding more open air events than usual. But we must stress personal responsibility. Please be responsible for your own safety. Make your own value judgments and do not take risks you are unhappy with. Equally please respect others. We want you all to have a great time as safely as possible.
---
To cancel click here, to edit your subscription click here.