| | |
| --- | --- |
| | Work has begun on upgrading our website to bring it more up to date and allow more information to be included. There will be several changes to format and appearance over the next few months but one important change you will now notice when you first connect is a padlock display as we have also updated our security for the site. |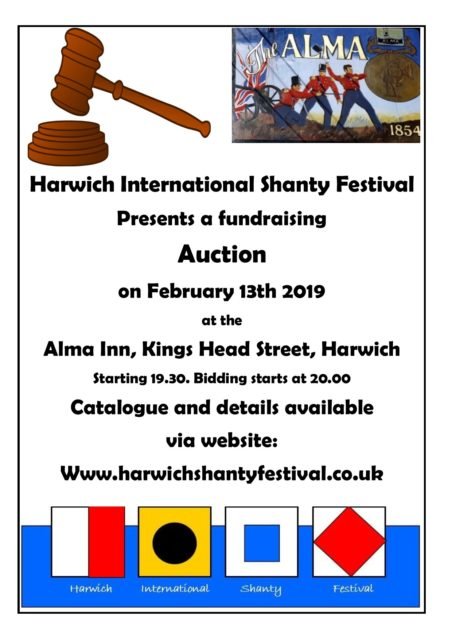 The fundraising Auction is getting close. Wednesday 13th February in the Alma Inn, 7.30 start ready for bidding at 8.00 p.m. prompt. We have a really exciting selection of Lots to bid for including concert tickets, meals out, a wardrobe, hampers, cakes and musical instruments. Take a look at the Catalogue on our website https://harwichshantyfestival.co.uk/auction-catalogue/ to see all the Lots available. And don't worry if you can't come on the night, we intend to livestream the event and you can bid by email on auction@harwichshantyfestival.co.uk . You will need to include your phone number on the email and we will be phoning on the day to verify inclusion. Please note we are not able to post heavy items so be aware that there may be some bids we will be unable to accept. Apart from email and phone, no bids via other online services will be accepted.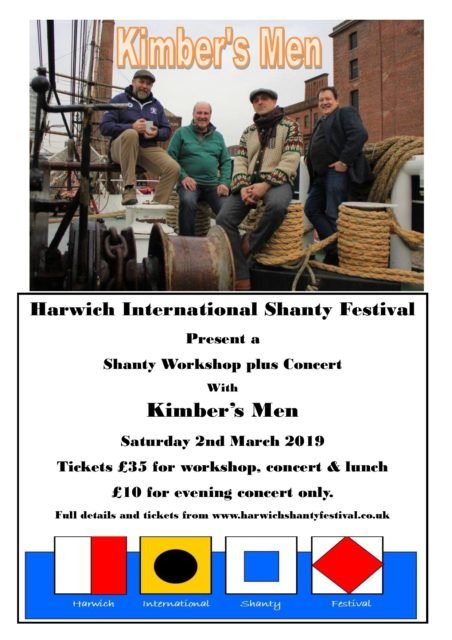 This promises to be an exciting day and there are now only a few tickets left for the workshop, but we do still have availability for evening concert tickets. Tickets for both workshop and evening concert are available via the www.harwichshantyfestival.co.uk/special-concert so buy yours soon. We have people from all over the U.K. coming to this important day so many of you may be staying for the whole weekend. And we know that there are also some accompanying partners who are only attending the concert, not the workshop. We are therefore pleased to tell you that there are some other events in Harwich over the weekend which might keep "significant others" occupied during the day on Saturday and everyone on Sunday 3rd. Visit https://essexbookfestival.org.uk/event/secret-water/ for more details.
The 400th Anniversary of the historic voyage of the Mayflower is drawing close and the town of Harwich is gearing itself up for year long celebrations beginning this November. Harwich International Shanty Festival is proud to be involved in the planning and delivery of this momentous opportunity for Harwich. Whilst it is too soon to publicise the exact calendar of events, we also expect the 2020 Festival to be a very special occasion and look forward to sharing some of the exciting activities planned as this year progresses.
---
To cancel click here,