September Shanty Newsletter
Not long now! 8th to 10th October 2021
Hi {name}
The monthly newsletter is early this month as things are moving apace and there is much to report.
Cake'n'Shanty
The Cake'n'Shanty Sale exceeded all expectations with a fantastic array of cakes, excellent entertainment, an army of helpers and appreciative audiences throughout the day. We made a profit of around £1,000. A much needed boost to our funds and everyone is keen to turn this into an annual event. So watch out for details next year. Meanwhile a huge thank you to all who helped this occasion to be such a success, including cake bakers, stall helpers, singers, musicians, audience and anyone else involved. 
Caravan/Campervan Site
After troubled negotiations we are finally able to announce that we are taking bookings for the Caravan/Campervan/Motorhome Site on Harwich Green. We are sorry for the delay, but this was due to reasons beyond our control. The site is for self contained vehicles only as there is no water and there are no toilets on site. Therefore no tents allowed and no black or grey waste water is to be dropped. Likewise rubbish is to be taken away with you. To book a place please visit https://harwichshantyfestival.co.uk/caravan-campervan-2021/ .
This site is not a Car Park. There are car parks in Harwich Town and we have use of the Trinity House Car Park again this year, accessed from West Street.  We would also like to remind people that we have a new Accommodation List for this year which we can email to any interested parties. We know that accommodation is difficult to find over the Shanty Festival weekend, but we know there are still a few B&B s available. Please email info@harwichshantyfestival.co.uk for details.
Programmes and Tickets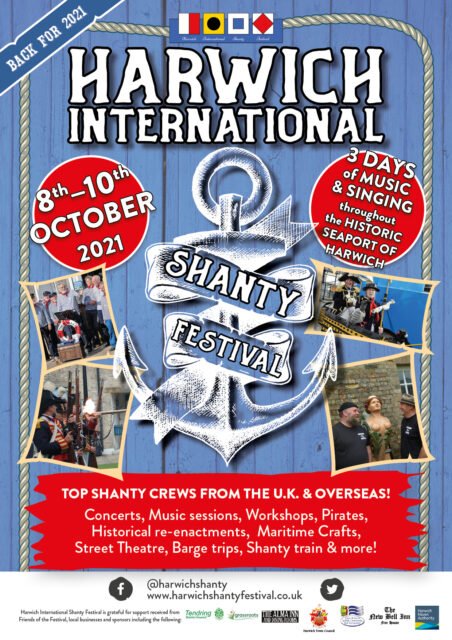 Tickets and Programmes are now on sale. Visit https://harwichshantyfestival.co.uk/tickets/ to book online. Printed programmes are also available from several outlets within Harwich and Dovercourt, including the Ha'Penny Pier Visitor Centre.
Merchandise
We are in the happy position of shortly re-ordering both T-Shirts and Hooded Sweatshirts having sold out of some sizes. An announcement will be made once they are back in stock, but meanwhile there are plenty left on sale, both via the website: https://harwichshantyfestival.co.uk/merchandise/ or from the Ha'Penny Pier Visitor Centre.
Keep checking our Social Media outlets for all up to date information and we look forward to seeing you in October.
---
To cancel click here, to edit your subscription click here.