HISF July 2021 Shanty Newsletter
Hi {name}
Our newsletter is slightly late this month as preparations for the Festival are gaining pace and the committee has been extraordinarily busy. We have also been awaiting various items of news, some of which have made it into this newsletter, some will have to wait until next month.
Merchandise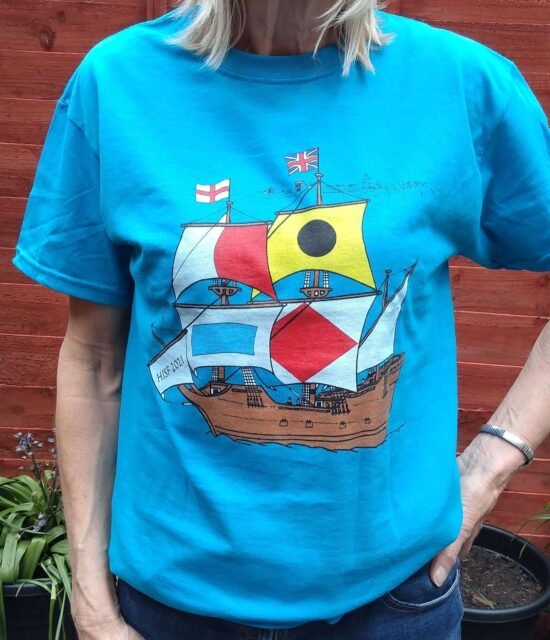 Our super new 2021 T. Shirts went on sale at the end of June and are selling well, including overseas sales to the USA and New Zealand! So well in fact that size 2XL is now sold out! Does this say something about Shanty singers? But don't worry, we will be ordering some more later this summer so there's still time to get one of the smartest looks around. All other sizes still available either by post via the website https://harwichshantyfestival.co.uk/2021-shanty-t-shirts/ or, if you are in Harwich, at the Ha'Penny Pier Visitor Centre. The Visitor Centre is also selling our CDs, (again available by post via https://harwichshantyfestival.co.uk/three-cds-in-stock/ ) and our pint mugs, reusable, stackable, unbreakable and ideal for more than just beer. 
These will be on sale at our 2021 Festival to avoid glass breakages and to enable drinkers to move easily between venues. Look out also for hooded sweatshirts; more news of which very soon.
Funding Update

We don't normally go on about this sort of thing in our monthly newsletters, but this year is proving particularly difficult for us. We have received yet another rejection letter, but we are grateful for two more donations made since the June newsletter and are pleased to report that we have just received a £1,000 grant from Tendring District Council. Our committee is continuing to work in overdrive on four further small grant applications, but the outcomes are far from certain. We therefore continue on a wing and a prayer and will be grateful for any more donations or offers of sponsorship which can be made securely via https://harwichshantyfestival.co.uk/donations/ or email info@harwichshantyfestival.co.uk .
Cake Sale
As part of our fundraising drive we are also holding a Cake and Shanty Day (what could possibly be better!). In Harwich Town this will be held on Bank Holiday Monday 30th August and we will be selling teas and coffees, homemade cakes, shanty merchandise, programmes and raffle tickets and handing out flyers. There will be a mixture of shanties and folk music as entertainment. The event runs from 11.00 until late afternoon and there will be plenty more local publicity as the date approaches. But we would like to encourage as many of our supporters as possible to join in with this event, regardless of geographical location. We are proposing a worldwide Cake and Shanty event anytime around the last weekend in August. To help to raise money for Harwich International Shanty Festival, but also to have a fun event in your own town, please consider organising a similar day. We can send you online resources including printable flags for your homemade cakes, template fliers/posters and information on where to send the money raised. We suggest an outdoor event, such as a garden party might be best, but it's really up to you. Send us photos or films of the event which we will make into a montage for the festival website and Social Media generating publicity for all.  For further details please email us – info@harwichshantyfestival.co.uk 
Fliers/ Posters/Programmes
We have delayed printing of fliers as, earlier in the pandemic, handouts were a possible problem. However these are available as from today (see below) and distribution will commence immediately. Posters likewise. We shall not be posting out any individual fliers, but if you know of somewhere you could place a bundle please get in touch and we will endeavour to send some to you. Programmes are also almost ready and our local printers, Autoprint, will be working on these next week. As soon as they are available we shall let you all know.
And so with just over two months to go, we are almost back on track with Festival tasks and we look forward to seeing you all again this October!
Download a full size copy of the flier - https://harwichshantyfestival.co.uk/wp-content/uploads/2021/07/2021-Poster.jpg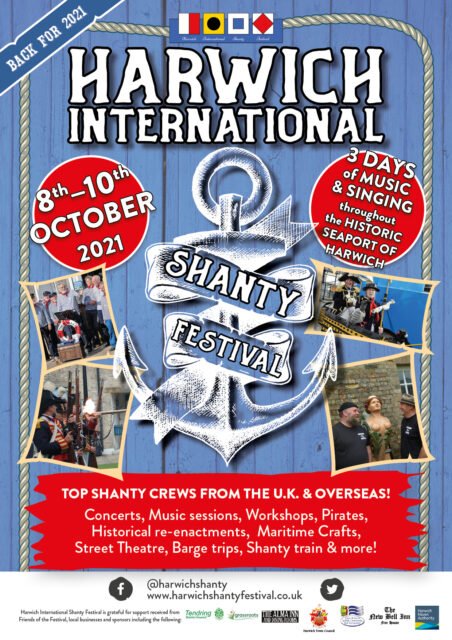 ---
To cancel click here, to edit your subscription click here.