Hi {name}
February Shanty Newsletter
Sunday Shanties at the Pier

The second of our Sunday Shanties at the Pier Hotel takes place this coming Sunday 9th February and features popular local group Rattlin' Winches. What better way to spend a winter Sunday if you are in the area? Starts at 11.30 a.m. in the Navyard Bar and continues through the lunchtime period.
Next month features Naze Shanty Crew on March 8th and the Hoolies from Wivenhoe will perform on Easter Sunday 12th April. More dates to be confirmed in our March newsletter.
Rogue Shanty Buoys Workshop & Concert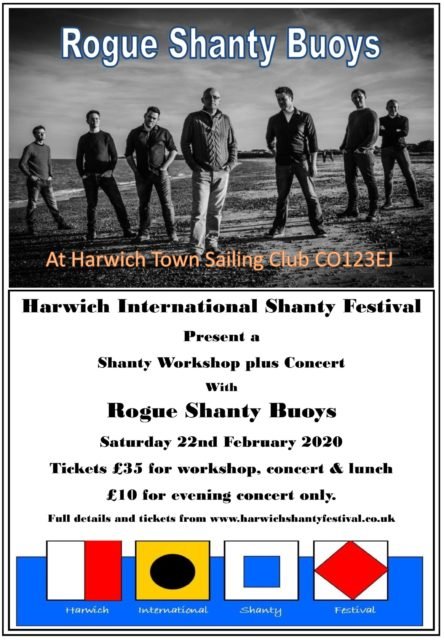 Our other big event for February is the second of our winter workshop and concert sessions. Last year Kimber's Men ran an excellent and well attended day for us, with some fascinating insights into shanties and a superb concert in the evening. This year sees Rogue Shanty Buoys from Lowestoft hosting the day for us. If you missed seeing the Buoys at our Festival, they are talented performers with a wealth of knowledge about shanties and sea songs and a proven track record on running singing workshops. Tickets are selling well and you have just over two weeks left to buy either the combined workshop, lunch & concert ticket at £35 or concert only at £10. Subjects covered by the workshops will include Harmonies, Singing in Rounds and Different Shanties for Different Jobs. Go to www.harwichshantyfestival.co.uk to buy tickets.
2020 Artists

Much work is going on behind the scenes and our Guest List for 2020 is almost full. Keep a check on the website to see booked Artists appearing soon. There are still a few spaces left so it's not quite too late to apply, but don't forget our new Busking Slots, which we will be expanding for 2020. More news on this later in the year.
---
To cancel click here, to edit your subscription click here.