December Newsletter
Hi {name} 
Christmas is coming! Which means it is nearly time for the Harwich International Shanty Festival Annual Treasure Hunt! This popular fundraiser has become an event in its own right and is an excellent way to dust off the Christmas stupor and get both brain and body working again. Solve a series of cryptic clues around old Harwich Town with prizes for the winning teams. Suitable for all the family with separate clues for children.
Collect your question sheets from the Alma Inn from 12.00 noon, returning there for marking by 15.30 at the latest. Entry is £3.00 per person or £8.00 per family. See you at the Alma on Monday 30th December.
And to solve your Christmas present dilemmas we do have a few T-shirts (sizes XL and XXL) and CDs left from the 2019 Festival. If you wish to purchase any please pay through Paypal – info@harwichshantyfestival.co.uk stating the size you require and giving a postal address. T-shirts are now £12 including p&p and CDs are £8 including p&p.
Coming up in the New Year there are several more events. On February 22nd we have another Shanty Workshop, following on from the very successful event with Kimber's Men last year. This time we have Rogue Shanty Buoys leading a day of interesting workshops, followed by an evening concert. The Rogues have guested for us at the Festival a few times and gained quite a following and they are experienced workshop leaders having run several Shanty Workshops in their home town of Lowestoft. Check them out on www.shanties.co.uk  or on their Facebook Page www.facebook.com/TheShantyBuoys/
Tickets are now on sale via our website: www.harwichshantyfestival.co.uk/event/the-rogue-shanty-buoys/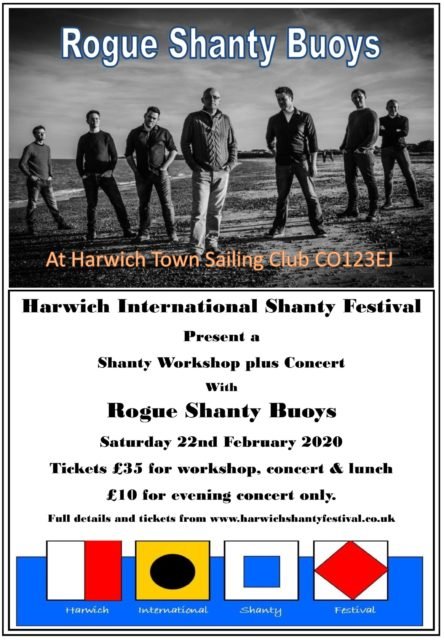 In January, The Pier Hotel in Harwich is starting a series of Shanty Sundays on the second Sunday of the Month at around midday. The 12th of January will be the first of these and further details will be confirmed soon. This is an initiative from the Pier Hotel and Shanty fans who are in the area may wish to visit.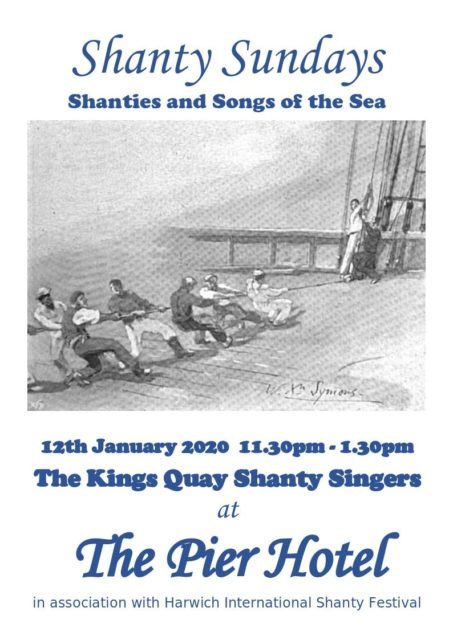 Another related event, but not run for the Festival, is a weekend of melodeon workshops on 18/19th April at the Harwich Town Sailing Club and the 1912 Club. Katie Howson and Simon Care will be the tutors for the first of what is hoped will be an annual event. Full details are available at www.melodeons-on-sea.co.uk and tickets are already on sale.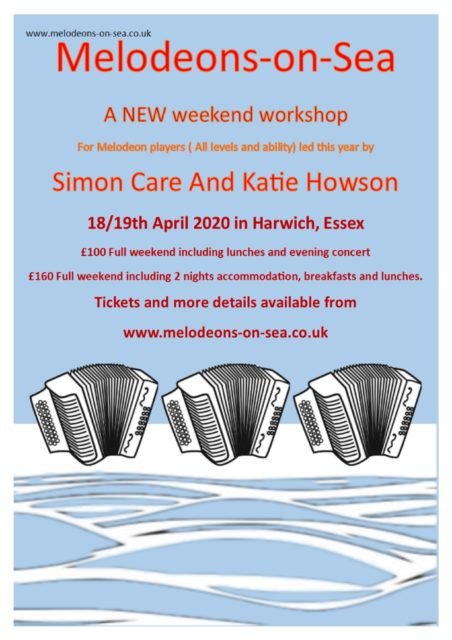 So it just remains to wish you all a Happy Christmas from the Shanty Committee. Don't forget to check out the website for the 2019 photos which are now available to view and for more details of all Special Events including those mentioned here.
---
To cancel click here, to edit your subscription click here.