Harwich International Sea Shanty Festival
13th-15th October 2017
This year marked the 12th anniversary of Harwich International Shanty Festival. It has journeyed a long way since its small beginnings with a bunch of friends meeting up in a couple of pubs to drink good beer and sing good shanties, but we like to think that the initial idea of a cosy pub atmosphere, good friends and rousing shanties is still at the heart of all we do. Nowadays the whole town of Old Harwich resounds to the sound of Shanties and Sea songs and in addition there were concerts, barge trips, street theatre, maritime crafts and much more to look forward to.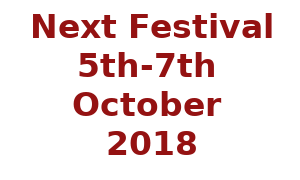 This is a taster of what to expect n 2018:
Enjoy the Shanty Train, running backwards and forwards between Harwich Town and Manningtree Station; visit the wonderfully restored Redoubt Fort with displays and demonstrations of maritime crafts, plus pirates and Napoleonic Re-enactment; attend one of the many workshops on offer; take an informative guided walk through the old town or just snuggle up with a beer and a song at one of the many hospitable venues throughout the town. This year we hope to welcome shanty singers from France, Holland, Spain and Italy as well as from all over the U.K. On Friday evening there will be entertainment on board the Sailing Barge Victor, moored alongside the Ha'Penny Pier. On Saturday Inner State Theatre will be entertaining visitors with their Viking Invaders Show and their Viking Longship will visit us on Sunday. There is always a skirmish between the pirates and the militia the pirates have set their sights on a beach invasion! 
A 90 minute trip on board the Thames Sailing Barge "Victor" and featuring  entertainment from our festival artists, is always a highlight of the weekend. And come to hear some truly stunning acts at our Saturday evening concert.Workshops and talks include "Singing in Harmony", "How to Play the Bones" and a new "Song for Harwich" and after a successful first time out, we are pleased to include more Spoken Word Sessions where you are encouraged to bring along and share your poems, stories and monologues. Many of the events are free to attend. A full programme and tickets for priced events can be bought via this website nearer the time. 
Background
The Harwich International Shanty Festival was set up in 2006 to organise and co-ordinate an annual sea shanty festival over a weekend in October. Through concerts, 'singarounds', pub sessions, talks and workshops, the history and heritage of Harwich as part of the British seafaring nation is celebrated, promoted and perpetuated by local people and groups. This is unique for the county of Essex and is attracting audiences countrywide and beyond. 
Why the community needs us
The festival celebrates Harwich's unique, important and sometimes overlooked great maritime past. Shanty singers from all over the world come to Harwich on the second weekend in October and the whole town is filled with music and colour. The people from Harwich have taken the festival to their hearts and large numbers come every year to enjoy the atmosphere. Local businesses also benefit from a large influx of tourists from farther afield, especially at an otherwise quiet time of year
Our impact on the community
Through the years over which the festival has been running a huge amount of interest has been generated locally in singing and in Shanties in particular and their relevance to the residents of Harwich. Workshops have been run which have resulted in a special Song for Harwich being created and Harwich now has its own Shanty Group, following workshops at a previous festival. In 2013 local Primary Schools worked together to create new Shanties, which were sung over the festival weekend. A book with a CD of these new songs was also produced. In 2014 we commissioned visiting artists to write new songs concerning Harwich links with the Mayflower's trip to the New World, captained by a Harwich Man, Christopher Jones. Seventeen new songs were performed at the Mayflower Project where a replica ship is being built and a CD of these songs has now been produced. 
Further information
Please Contact Us if you require any further information. We also have a links page to local attractions, companies and friends