August Shanty Newsletter
Hi {name}
Accommodation
The last few newsletters and also our Facebook and Twitter posts, have been somewhat pre-occupied of late with the pressing issue of accommodation within Harwich Town. We still desperately need offers of accommodation both for this Festival and also looking forward to 2020, which being the 400th Anniversary of the Mayflower is set to be a BIG year in Harwich. But we have potentially a new and slightly different problem looming for 2020. Visitors from U.K. and abroad are already booking accommodation within the town for the 2020 Shanty Festival.
Whilst this popularity is flattering and we definitely want 2020 to be a huge success, it might be prudent to warn some of our regular attendees that they should look to reserving accommodation now if they hope to attend in 2020!
Programming
Our programme is now finalised, with as usual, plenty of exciting and interesting events throughout the weekend and off to the Printers next week. So look out for printed and downloadable copies by the end of this month.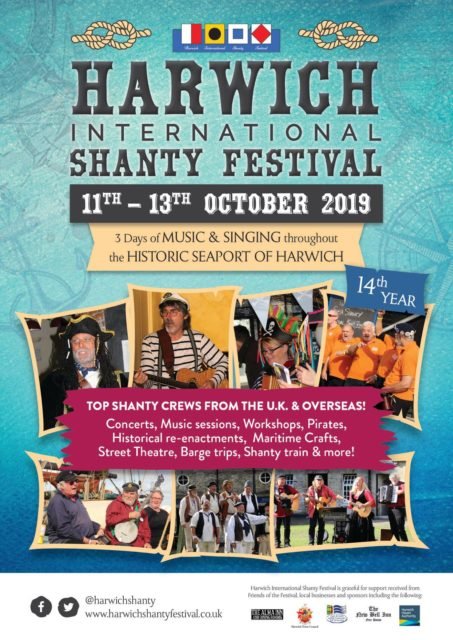 Badge Workshop
Making the badges to sell at the Festival has become an annual and enjoyable committee pastime and this year was no different. Here we are in the New Bell Inn assembling badges, laminating posters, putting string on collecting tins, oh and yes, drinking!
Maritime Festival
27th July saw the first Harwich Maritime Festival, replacing the Festival of the Sea. This re-vamped Festival is now run by Harwich Haven Authority and supports Harwich RNLI. Members of the Shanty Festival committee were invited to sing a few shanties on the Main Stage to kick start the event (and of course to promote the Shanty Festival). The same day there was a quick decamp to the Redoubt for some more singing - and a beer festival!
Pirate Plunder
This excellent publication is now available throughout the summer months at the Visitor Centre on the Ha'Penny Pier. Pirates are always a popular feature at the Festival and the magazine has achieved quite a following. And don't forget International Talk Like A Pirate Day on September19th!
Summer Shanties on the Pier
As part of our Shanties on the Pier promoting the Festival, the Hoolies from Wivenhoe will be singing on Sunday 18th and Shantyfolk from Lavenham will be singing on Sunday 25th. Details on our site https://www.harwichshantyfestival.co.uk/special-events/
---
To cancel click here, to edit your subscription click here.